The $1.25-million, Grade 1 Runhappy Travers Stakes at Saratoga Race Course on Saturday is shaping up to be a very important race in determining how the 3-year-old division plays out for the rest of 2019, since, with the arguable exception of Maximum Security, no horse has separated from the rest of the upper echelon through the first eight months of racing. Furthermore, the 150th Travers should also be a horseplayers' delight as it features a large, competitive field.
The 1 ¼-mile Travers will be the featured race in a one-hour national broadcast on FOX from 5 to 6 p.m. ET. The Travers is not an automatic qualifying race for the Breeders' Cup Classic, but three other stakes races on Saratoga's loaded Saturday card are Challenge Series "Win and You're In" races, and will be televised by Fox Sports.
Whether you are interested in making a couple of bucks on the race or just want to know a little bit about this year's runners, we've got you covered with our 2019 Travers Stakes In-Depth Runner by Runner Analysis & Tip Cheat Sheet.
2019

Travers Stakes Odds, Horses, Jockeys & Trainers
THE 150TH RUNNING OF THE GREAT 'MID-SUMMERS' DERBY
Race 11 at Saratoga on Saturday, August 24 – Post 5:44 PM
By signing up for a new TwinSpires wagering account and entering the promotional code "FREE10″ you will have your account credited with $10 to start your betting journey.
Top 10 Travers Stakes Winners
Known as the Mid-Summer Derby, the Travers Stakes is a 1 ¼ mile race for 3-year-olds held at Saratoga Race Course. The race was first held in 1864, and there have been some remarkable races and winners in the Travers. Still, only one of the 12 Triple Crown champions has won the Travers Stakes (Whirlaway).
While there have been many wonderful winners, here is a selected list of the top 12 horses to win the Travers Stakes.
1920: Man o' War – Won the Travers in 2:01.80; a stakes record that stood for more than four decades. The permanent trophy since 1936 is named the Man o' War Cup.
1921: Sporting Blood – The great conspiracy race and betting scandal with the owner of Sporting Blood betting $150,000 on his horse to win with a bookie, and the favourite Grey Lag scratched just before post time.
1930: Jim Dandy – Shocked the crowd and bookmakers as a 100-1 shot, upsetting Triple Crown champion Gallant Fox over a muddy and deep track on a stormy afternoon at Saratoga.
1941: Whirlaway – The only horse to win the American Triple Crown and Travers Stakes.
1962: Jaipur – Won by a nose-bob in a then track record time. Considered one of the greatest races and duels in Travers history, running less than a half-length apart with Ridan the entire race.
1967: Demascus – Won by a record 22 lengths in a then track record time of 2:01.60.
1982: Runaway Groom – Champion Canadian 3-year-old beat the three American Triple Crown winners.
1997: Deputy Commander – Memorable stretch duel between Behrens and Deputy Commander with Hall of Fame jockeys Jerry Bailey and Chris McCarron aboard.
  
2001: Point Given – Won in front of a then Travers-record crowd of 60,486 who bet a record $34.5 million on the race; a record at the time.
2012: Alpha and Golden Ticket – Finished in a dead heat for first place.
2015: Keen Ice – Notable winner as he upset Triple Crown winner American Pharoah on a record-wagering Travers Day ($49.6 million) with an added purse of a record $1.6 million.
2016: Arrogate – Won by 13 ½ lengths while setting a new stakes record of 1:59.36.
---
Travers Stakes Winners History
The Travers Stakes has produced some notable champions during its storied history, and the 2016 winner Arrogate was a relative unknown until he delivered a breath-taking 13-length victory in a Travers-record time of 1:59.23. That victory was Arrogate's stakes debut, and the late-bloomer went on to win the Breeders' Cup Classic, the Pegasus World Cup, and the Dubai World Cup in his next three starts and become North America's all-time money winner.
The 'Midsummer Derby' is contested at the classic 1 ¼ mile distance, and the race at historic Saratoga Race Course has been won by many of the legends of racing. The Travers trophy, known as the Man o' War Cup, is named in honour of the 1920 winner Man 'o War, whose victory was one of his 20 wins in 21 career starts.
The most recent decade has produced some of racings stars among its many memorable moments. Winners include Bernardini (2006), Street Sense (2007), Summer Bird (2009), Will Take Charge (2013), Arrogate (2016) and Keen Ice (2015), who upset Triple Crown winner American Pharoah. Many of these and other notable winners went on to win champion 3-year-old and/or Horse of the Year honours. In total, 36 Travers winners were later named Champion-3-Year-Old.
Alpha and Golden Ticket (2012) completed the first dead-heat winner in Travers history that never went to a race-off. No race favourite has won the Travers (alone) since 2011 with Stay Thirsty.
Past Travers noted champions that paved the way for the modern race winners include:  Triple Crown winner Whirlaway (1941), Sword Dancer (1953) and Ruthless (1867), who went on to become the first of seven fillies to win the Travers.
In the past 40 years, other notable and significant wins include: Alydar (1978) who won after rival Affirmed was disqualified, previous record holder General Assembly (1979), Java Gold (1987), Easy Goer (1989), Holy Bull (1994), Thunder Gulch (1995), Lemon Drop Kid (1999), Point Given (2001), Medaglia 'd Oro (2002), Birdstone (2004), and those above in the last decade.
Some racing greats both running and riding have won and lost some of the tightest finishes, as 10 Travers Stakes have been decided by a nose, including two in the past decade, Wicked Strong (2014) and Afleet Express (2010).
Jockey Javier Castellano has recorded a record 5 Travers wins over the last decade, guiding Bernardini (2006), Afleet Express (2010), Stay Thirsty (2011), V. E. Day (2014), and Keen Ice (2015) to victory.
THE 2018 TRAVERS STAKES WAS TAKEN OUT BY CATHOLIC BOY, THE RACE REPLAY IS AVAILABLE BELOW.
The best racing of the Saratoga meet happens Saturday! Get up to $100 in bonus cash with a winners bonus in every race. Plus if you make a contest bet in every race, you'll get 15% "Winsurance" on your losses!
Travers Stakes Information & History
The Travers at Saratoga Race Course is America's Oldest Stakes Race for Thoroughbreds.
When the Saratoga Racing Association named the Travers Stakes for William R. Travers (one of the founders of America's oldest racecourse), they sought only to honour a man who'd made his mark on the sport of horse racing. Mr Travers' horse, Kentucky, won that first in 1864.
Almost immediately, the Travers became a prestigious event, as word spread that the race was designed for only extraordinary three-year-old horses. The race has been run at four different distances during the course of its history to-date:
1 miles (2.81 km): 1864 to 1889
1 miles (2.41 km): 1890 to 1892
1 miles (2.01 km): 1893 to 1894, 1897
1.12 miles (1.81 km): 1895, 1901 to 1903
1¼ miles (2.01 km): 1904 to present
The present distance of 1 1/4 miles is a perfect distance for contemporary three-year-olds. The race is open to colts and geldings, carrying 126 lb (57.2 kg) and fillies, carrying 121 lbs. (54.9 kg).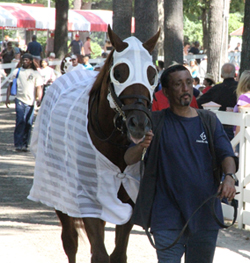 The Travers creates memories every year, for thousands of people. Too many wonderful experiences to recount here, but some of those memories that have been shared by large numbers of race fans:
In 1941, Whirlaway became the only horse ever to win the superfecta: he'd won the Triple Crown, then went on to take the Travers, as well.
In 1962, Jaipur won by a nose-bob in track record time over Ridan, who was considered to be more talented. The long battle (the entire 1 1/4 miles) saw the two horses duke it out the entire distance of the race.
In 1982, Runaway Groom (Champion Canadian three-year-old), who was trained by John DiMario, arrived at the Saratoga backstretch after a very long and exhausting season. He'd competed in the Canadian Triple Crown: he won the Prince of Wales Stakes, the Breeders' Stakes, and finished second in the Queen's Plate. Runaway Groom's Travers victory made him the only horse in racing history to beat the winners of that year's American Triple Crown in the same race. (Kentucky Derby winner Gato Del Sol; Preakness Stakes winner Aloma's Ruler and Belmont Stakes winner, Conquistador Cielo.)
Point Given, a gorgeous, big, 17hh monster, won the Travers on August 25, 2001. That day, Point Given drew a record Travers Stakes Day crowd, 60,486 fans. The race brought in a total betting handle of $34,529,273. This was also a Saratoga record to that date.
IN-DEPTH RUNNER ANALYSIS
1. Owendale
This colt enters the Travers Stakes in career-best form and sporting the highest career Equibase Speed Figure in the 12-horse field. Owendale earned that in a hard-fought, half-length win over Math Wizard in the Grade 3 Ohio Derby at Thistledown June 22, his most recent start. Prior to that, he tallied two triple-digit figures when running a rallying third in the Preakness Stakes in May and then when winning his first graded stakes, the Grade 3 Stonestreet Lexington at Keeneland in April. Other than an inexplicably dull eighth-place effort in the Risen Star Stakes back in February, this son of top sire Into Mischief has never run a bad race since breaking his maiden in his third start last fall. Based on form, he should be a leading win candidate in the Travers, although it should be noted that Ohio Derby runner-up Math Wizard came back to run a well-beaten sixth in the West Virginia Derby, more than five lengths behind that race's runner-up and Travers longshot Chess Chief. The big question with Owendale is distance: Into Mischief, while currently leading the North American sire list for 2019, has yet to sire a classic-distance horse of any distinction, and several other Travers starters, including probable favourites Tacitus and Tax, both have more suitable pedigrees for the Travers' 1 ¼ miles as well as more experience competing in route races. But Owendale is a legitimate contender in the Travers and should be sitting in an advantageous stalking spot under Florent Geroux after saving ground early as the field makes its way through the backstretch. Geroux finished third on Gun Runner in the 2016 Travers. Owendale is the first Travers starter for up-and-coming trainer Brad Cox.

2. Code of Honor 
Code of Honor figures to be one of the post-time favourites in Saturday's 150th Travers, and he will carry a lot of support on track as a local hero. He broke his maiden first out at Saratoga last summer and was in the top echelon of 2019 Kentucky Derby contenders through the winter and into early spring until he finished a dull third in the Florida Derby. The Kentucky Derby provided some measure of redemption for Code of Honor, as he reached contention at the top of the stretch with a very good trip under John Velazquez but could not seal the deal and finished third (elevated to second after Maximum Security was disqualified). Following the Derby, Code of Honor was patiently handled by Hall of Famer Shug McGaughey and bypassed the remaining Triple Crown races, returning with a visually impressive win in the one-mile, Grade 3 Dwyer Stakes at Belmont Park on July 6. He's been training steadily at Saratoga ever since, and McGaughey is renowned for getting his horses to excel in races that he's targeted on the calendar. Code of Honor has a good stalking running style for the Travers, although getting the 1 ¼-mile distance is still a concern given how he tired late in the Kentucky Derby. Still, this professional colt is a logical win candidate and a horse to build exacta and trifecta tickets around. Hall of Fame rider Velazquez won the 2005 Travers aboard Flower Alley and he also finished second twice. McGaughey has three Travers wins: back to back in 1989 and 1990 with champions Easy Goer and Rhythm and in 1998 with Coronado's Quest. Will Farish of Lane's End Farm also campaigns Travers starter Highest Honor; he co-owned both 2007 Travers runner-up Grasshopper and 2008 runner-up (by a nose) Mambo in Seattle.

3. Highest Honors 
Highest Honors won the local prep for the Travers, the July 26 Curlin Stakes, by 1 ½ lengths on a muddy track over fellow Travers starters Endorsed and Looking At Bikinis. After trailing the field early, he made a sustained rally heading into the far turn and was kept to task by jockey Jose Ortiz while three-wide in the stretch of the 1 1/8-mile Curlin. He continued on stoutly to the finish and appeared to be well-suited to handling added distance in his future races. Ortiz will ride Tacitus in the Travers as he has for all of that colt's starts, but Highest Honors picks up Luis Saez, who currently ranks fourth by wins at Saratoga's elite meet and third by purse earnings. This son of top sire Tapit is obviously very talented but has only been competing since late April, finishing second by a neck in his career debut at Keeneland and then winning a 1 1/16-mile, one-turn maiden race at Belmont Park before his two-turn score in the Curlin. Highest Honors has an outsider's chance to grab what his name proclaims. Look for Saez to position his mount in midpack on Saturday, perhaps a bit closer to the lead than in this colt's stakes debut. Saez won his Travers debut on Will Take Charge in 2013 and finished third last year aboard Bravazo. Chad Brown's best Travers finish to date from eight starters is fourth with Gift Box in 2016. Will Farish also campaigns Travers starter Code of Honor; he co-owned both 2007 Travers runner-up Grasshopper and 2008 runner-up (by a nose) Mambo in Seattle.



4. 

Laughing Fox 
This horse was an under-the-radar contender on the Road to the Kentucky Derby based on back-to-back wins at Oaklawn Park in late winter, but disappointed in his two Derby points races at his home track and thus was relegated to starting in the inaugural Oaklawn Invitational Stakes on Kentucky Derby day. Laughing Fox won that 1 1/8-mile race with a visually impressive closing rally, and since then has finished fifth in the Preakness Stakes and fourth in the Jim Dandy Stakes Presented by NYRA Bets. In all of his nine career starts, he's come running from off the pace, either from a stalking position or from farther back. As such, he'll be dependent on a swift early pace in Saturday's Travers, which he may well not get. Still, this colt has untapped potential and is a more appealing candidate to fill out exacta's and trifectas than the other deep closers lined up in the Travers. Ricardo Santana Jr. has ridden Laughing Fox in all but two of his starts (one of those he missed was the Oaklawn Invitational) and will need to keep his mount out of traffic trouble through the first mile or so in order to get Laughing Fox cranked up for a stretch run. Santana, the first-call jockey for Steve Asmussen, has been riding well during the current Saratoga meet and will be making his second consecutive start in the Travers. Asmussen has finished third twice from five Travers starters.

5. Everfast 
In 2015, Dale Romans trained one of the biggest upset winners in the storied history of the Mid-summer Derby, when Keen Ice rallied past Triple Crown winner and eventual Breeders' Cup Classic winner and Horse of the Year American Pharoah in the final strides. A win by Everfast in Saturday's Travers would go down in the books as arguably an even greater upset, although there is no horse in the 2019 Travers field that comes anywhere close to American Pharoah in terms of accomplishments. But then, Everfast is no Keen Ice, either. This horse has competed in many of the top-level races among his age group ever since last fall and has been a factor exactly twice, posting two runner-up efforts at gargantuan odds in the Fasig-Tipton Holy Bull Stakes back in February and then in the May 18 Preakness Stakes behind War of Will. One could argue that his Belmont Stakes Presented by NYRA Bets seventh-place effort wasn't bad, either, as he was defeated by only three lengths. But in each of his seven other graded stakes appearances to date, he's finished 6 ¼ lengths back or more – often much more. Everfast will probably vie with Chess Chief for the longest odds at post time, and he should be positioned near the back of the field with that fellow grinder until the early stretch when he'll try to pick off some straggling horses and secure a spot in the superfecta. Young jockey Martin Chuan will make his Travers debut after recently moving from his native Peru, where he was a leading rider, to Ellis Park for its current summer meet. In addition to his win with Keen Ice, Louisville-based Romans finished third with First Dude in his 2010 Travers debut. Calumet Farm has three Travers wins, but all during its 20th-century era of dominance when owned by the Wright family. Calumet under Brad Kelley's ownership finished third last year in the Travers with Bravazo.
6. 

Tacitus
Still regarded as one of the best horses in his age group, Tacitus enters Saturday's 150th Travers Stakes in search of a career-defining, elite-level win after a good, but not good enough, efforts in his most recent trio of starts. He was rolling late in the Kentucky Derby but had too much ground to make up on Maximum Security and finished fourth (elevated to third after Maximum Security was disqualified). He paid the price late for a wide trip travelling a mile and a half in the Belmont Stakes gaining on winner Sir Winston in the final strides but still losing a length. In his most recent start in the Jim Dandy Stakes, Tacitus nearly fell at the start, but he amazingly recovered and then valiantly closed the gap on Tax through the stretch, only to come up three-quarters of a length short. He arguably should have won both the Belmont Stakes and Jim Dandy, and therefore will probably be the post-time favourite in the Travers, but a change in riding tactics may be in order on Saturday to give this physically imposing, superbly-bred son of Tapit the best chance of winning. Tacitus has a sustained, powerful running style similar to recent Travers winners Will Take Charge and Keen Ice, but like those horses, he also doesn't possess an electric turn of foot. Thus, it will be incumbent upon jockey Jose Ortiz, who's been aboard Tacitus for all of his starts, to judge the early pace by the time the Travers field settles in the backstretch and, if necessary, call for Tacitus to move into contention earlier than usual if the fractions are slow. The addition of blinkers could help in this regard. Ortiz, currently the leading rider at Saratoga's meet by a wide margin in wins and earnings, will be making his sixth Travers start; he finished second in his 2012 debut aboard Moreno. Hall of Famer Bill Mott has trained two Travers runners-up among eight starters. Khalid Abdullah's Juddmonte Farms owned 2016 Travers winner and track-record setter Arrogate.

7. Mucho Gusto 
This West Coast shipper adds even more class to what was already a high-quality Travers field. Bob Baffert decided earlier this week to start Mucho Gusto in the Mid-summer Derby after the colt posted three impressive workouts at Del Mar following his good runner-up finish behind Maximum Security in the Haskell Invitational. He enters the Travers with one of the best race records in the field, having won four Grade 3 races to date and with two runner-up finishes at the elite Grade 1 level. He has never finished worse than third through eight career starts, although it's notable that two of his defeats came in starts at 1 1/8 miles. Mucho Gusto does not need to control the pace to win, but he has had success doing so, and it would not be a surprise to see jockey Joe Talamo be aggressive in getting his mount secured in a prominent early position as the field moves into the first turn. This talented, consistent colt is stuck at the Grade 3 level and certainly has a chance to attain Grade 1 status in the prestigious Travers, but Mucho Gusto more realistically profiles as a horse to use in all exacta and trifecta bets rather than as a leading win candidate. Talamo has been aboard Mucho Gusto throughout the colt's career and will be making his Travers debut. Hall of Famer Baffert, on the other hand, has won the Travers three times from eight starters: Point Given (2001), Arrogate (2016), and West Coast (2017). And he also finished second in the 2015 renewal with a colt that was arguably better than his Travers winners, each of the champions: Horse of the Year and Triple Crown winner American Pharoah.

8. 

Chess Chief

 
Rarely can it be said that Hall of Fame jockey Mike Smith goes to the post on the longest shot in a marquee stakes race, but that could be the case on Saturday in the 150th Travers? Chess Chief has only one win in 10 career starts, a maiden score back in March at Fair Grounds. He has put forth better efforts in his most recent two starts – both stakes tries, in which he was fourth in the Indiana Derby and second, defeated by six lengths, in the West Virginia Derby (both won easily by Mr Money). He's also been training well at Churchill Downs for Dallas Stewart, who has a well-deserved reputation for getting huge runs out of longshots in prestigious races, and as mentioned above, he gets arguably the best big-race rider the sport to take the reins. But this horse is a one-dimensional closer who will need most, if not all, of the rest of the Travers field to fall apart in the stretch allowing him to meander to the lead. He may pass a few tired horses late, but hitting the board in any slot would be a major surprise. Smith has four Travers wins Holy Bull (1994), Coronado's Quest (1998), Arrogate (2016) and West Coast (2017). Chess Chief is Dallas Stewart's first Travers starter.

9. Looking At Bikinis
This intriguing contender joins Highest Honors to represent leading Saratoga trainer Chad Brown in the Travers. After winning his first start impressively in a 6 ½-furlong race last fall at Belmont Park, Looking At Bikinis was sidelined for more than nine months before returning in a one-mile allowance at the same track. He out finished stakes winner Not That Brady in an impressive off-the-bench effort, and that set him up for his two-turn debut in the July 26 Curlin Stakes at Saratoga, where he was sent off as the post-time favourite. He set a contested pace in the Curlin and appeared to be out of energy at the top of the stretch, but showed determination in the final furlong to hold third behind stablemate Highest Honors and Endorsed another Travers starter. This son of champion Lookin At Lucky has a solid, though not spectacular, pedigree in terms of stamina, and he'll need to move forward in a major way off of his Curlin performance to have a shot at winning on Saturday. In a Travers with no pure front-running horse entered, expect jockey Javier Castellano to put Looking At Bikinis into the race early from his outside post position, perhaps even at the head of the field by the time they hit the backstretch, and then try to set a modest pace through the middle stages of the race before asking his mount for full effort at the top of the homestretch. An off-track in the Travers may help this colt's chances, as he romped in his career debut on a sloppy track and then ran decent in the Curlin Stakes on the main track rated as muddy. Hall of Famer Castellano is the all-time winningest jockey in Travers history; his six winners are Bernardini (2006), Afleet Express (2010), Stay Thirsty (2011), V.E. Day (2014), Keen Ice (2015), and Catholic Boy (2018). He also finished second in 2005 aboard Bellamy Road. Chad Brown's best Travers finish to date from eight starters is fourth with Gift Box in 2016.

10. Scars Are Cool 
A major class test awaits this inexperienced but promising colt in the Travers, but he's shown improvement in each of his three starts since debuting in May and is a worthy longshot contender to consider using in exotic tickets. The son of Malibu Moon finished fourth in his debut at Churchill Downs going 6 ½ furlongs and then third as the favourite in a one-turn mile at the same track in June. After a five-week break, he surfaced at Saratoga and was stretched out to two turns in a 1 1/8-mile maiden on July 21. Scars Are Cool stalked a moderate pace and swept seven wide in the stretch for an impressive closing rally made even more so by the fact that jockey Tyler Gaffalione lost his riding crop just as his horse straightened out. The colt earned a 99 Equibase Speed Figure in that victory and will need to boost that significantly on Saturday to have a shot at hitting the board. He has shown a patient, stalking style in his young career and has responded well to Gaffalione in the saddle for all of his starts. Gaffalione will be making his second Travers start on Saturday. Stanley Hough, who returned to the sport after an absence of several years in 2018 as Sagamore Farm's personal trainer, will make his Travers debut.
11. 

Endorsed 

Endorsed exits the local Travers prep at Saratoga, the 1 1/8-mile Curlin Stakes July 26, when he ran a solid second to Highest Honors in his first try around two turns. Prior to that, he'd won his career debut during Saratoga's 2018 meet, ran sixth in October's Grade 1 Champagne Stakes, and then returned this June after a break of more than eight months to score in a six-furlong Belmont Park allowance race. This son of 2002 Travers winner Medaglia d'Oro has a nice pedigree but concedes a big experience edge to several foes in Saturday's race. He'll have to extend his stamina another eighth of a mile to get the Travers' classic mile-and-a-quarter distance, but he has the right rider to help him kick home in Joel Rosario, one of the sport's best closers. This will be Rosario's fourth Travers start; he finished third in his 2014 debut aboard Tonalist. New York-based Kiaran McLaughlin won the 2012 Travers in a dead heat with Godolphin-owned Alpha, and he also finished second in 2011. Sheikh Mohammed bin Rashid al Maktoum's Godolphin also owned 2001 Travers runner-up E Dubai.
12. 

Tax
This gelding could be in the early stages of putting together a lengthy and accomplished career in the mould of throwback types from the previous decade such as Perfect Drift and Lava Man. His backstory is already one of the most appealing among current horses in training, as he was astutely claimed by Danny Gargan for his current owners last fall at Keeneland, and then made his mark on the Kentucky Derby trail over the winter with a win in the Withers Stakes and a second to Tacitus in the Wood Memorial Stakes. After a disappointing 14th-place finish in the Kentucky Derby and a solid fourth in the Belmont Stakes, Tax put it all together with a breakthrough score over tough-luck Tacitus in the Jim Dandy Stakes at this track, back on July 27. He displayed his usual forwardly-placed, stalking running style in the Jim Dandy, took the lead under Irad Ortiz Jr. coming out of the far turn, and had enough stamina in reserve to hold off Tacitus' late challenge although you must take into account just how much extra gas Tacitus was forced to spend in the run after bombing out of the gates. Aside from his Kentucky Derby aberration, Tax has given a good account of himself in all of his races, and there's no reason to expect any different on Saturday, although Irad Ortiz will have to make the right decisions early on about when to angle Tax inward from his far outside post in order to save ground and secure a good stalking spot. His one-timed workout at Saratoga since the Jim Dandy was excellent, and he's bred to handle the 1 ¼-mile distance. All in all, there's little to question here – Tax is a serious threat to win the Travers and is the most logical horse to use as a key in exotic wagers, especially if his attractive 6-1 odds on the morning line hold steady. Ortiz's best Travers finish among seven prior starters was fourth in 2014. This will be Danny Gargan's first Travers appearance.
2019 TRAVERS STAKES SELECTIONS
1ST PICK. (2) CODE OF HONOR
2ND PICK. (6) TACITUS
3RD PICK. (7) MUCHO GUSTO
4TH PICK. (3) HIGHEST HONORS
5TH PICK. (1) OWENDALE
2019 TRAVERS STAKES WAGERS / BETS
$100 BETTING BUDGET
BET #1: $2 TRIFECTA PART WHEEL
24 Combinations
Cost = $48.00
1ST: 2, 6
2ND: 2, 3, 6, 7
3RD: 1, 2, 3, 6, 7, 11
BET #2: $52 – 2 HORSE DUTCH WIN ONLY BETS
WIN BET 1: 2.CODE OF HONOUR @ 4/1 ($5.00)
WIN BET 2: 6.TACITUS @ 5/2 ($3.50)
Dutch Betting Strategy
Selections 

& Profits

Values

CODE OF HONOUR wager

$30.59

TACITUS wager

$21.41

Profit

if CODE OF HONOUR wins
$55.06

Profit

if TACITUS wins

$55.05

Loss

if neither selection wins

$-52.00